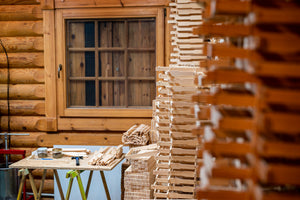 The workshop on making beehives
Participants will independently prepare beehives and frames for later colonization by honey bees. The workshop begins with an introduction to bees and an overview of safety guidelines (BHP). During the workshop, we will set up stations for frame nailing and wiring, box assembly, hive painting, and embedding wax. The group will rotate between these stations or specialize in specific tasks.
...
We provide tools, materials, equipment, and protective clothing. For off-site workshops, preparation of work tables and space is required. The entire workshop lasts approximately 1.5-2 hours. The workshop price does not include transferring the beehives to the ownership of the participants. The maximum number of participants for in-house workshops at Pszczelarium is 12 people, and for off-site workshops, it is 30 people. The pricing is for groups of 8 and 20 people, respectively. Each additional person incurs an extra cost of 150 PLN (net).
Show more
Show less
Product's origin