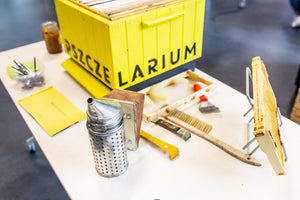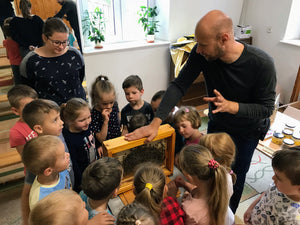 Beekeeping visit - Basic activities (for children aged 8+ years old)
We conduct workshops for children with enthusiasm and passion. We use high-quality educational materials, especially our own educational aids developed by us.
Children get to experience a lot hands-on: they can touch, smell, taste, and see.
During the workshop, we present a story about bees and their role, accompanied by:
Showing authentic honeycombs and pieces of melted beeswax.
Observing small beekeeping equipment that can be held in hands, giving them a sense of being a beekeeper, and trying on a beekeeper's hat.
Engaging in a talk about the importance of bees in the environment, with less obvious examples of pollination effects.
Providing tips on how to protect and help bees.
Discussing various bee products that can be seen and experienced.
Demonstrating the diversity of the bee world, showcasing different bee species and their appearances.
Exploring the structure of a bee through educational charts.
Examining selected elements of the bee world under a microscope.
During our visit, we can bring a glass beehive for observation.
...
The glass beehive is tightly sealed, but the bees have proper ventilation and food supply, so they don't experience significant discomfort. The bees cannot fly out of the hive, and they can be easily observed through the glass. After the workshop, the beehive is safely returned to the apiary. Transporting the hive is possible when the outside temperature is above 10°C. The maximum group size is approximately 22 people. Typically, the workshops last for about 45 minutes. Each additional started hour incurs a cost of 330 PLN (net).
Show more
Show less
Product's origin