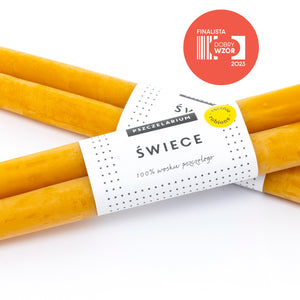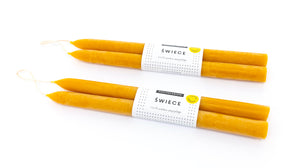 Large beeswax candles
A pair of candles made using the hand-dipping technique in melted beeswax. This is an ancient method of creating the finest beeswax candles. We carefully selected the perfect wick for the candles to burn long and steadily, and to prevent the wax from dripping down the sides of the candles in calm conditions. We create them exclusively from beeswax sourced from our own apiaries, which is why we are confident it is of the highest quality.
...
Sizes: length without the wick 27 cm, diameter at the base 2 cm. Product Weight: 160 g (2 x 80 g). Typical burning time of a single candle: 9-10 hours. Ingredients: 100% beeswax.
Show more
Show less
Product's origin